Creación 2008: (2ª parte)La Instrucción
(Creation Residence )
L'animal a l'esquena (Celrà)
From 04/02/2008 to 09/02/2008
Presentation :

On 08/02/2008 at 19:00
in L'animal a l'esquena (Celrà)
Marta Galán
( Marta Galán, Juan Navarro, Nuria Lloansi )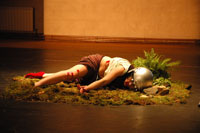 Creación 2008 is a scenic and documentary project based on two independent proposals questioning the Western society control over childhood: Los Especialistas, an audiovisual installation intervened and taken to scene by Mireia Serra and "La Instrucción", a theatrical performance executed by Núria Lloansi, Juan Navarro and their 8 year old son Yago. Marta Galán meets Juan Navarro and Núria Lloansi in order to initiate the creative process of La Instrucción. The idea is to propose a fictitious and futuristic situation as a poetic and irreverent alternative to the duality childhood/education in technocrat and consumer societies. La Instruction will be composed by images, actions and texts made out from data obtained exclusively from the present times. The aim is to get a scenic proposal referring to science-fiction but having our socio-political and human context as the starting point.

---
| | | | | | |
| --- | --- | --- | --- | --- | --- |
| 147/1 | Video | 05/02/2008 | [1h] | Cast | Creation process |
| 147/4 | Video | 06/02/2008 | [28min] | Cast | Creation process II |
| 147/2 | Video | 08/02/2008 | [1h] | Cast | Interview/ Presentation |
| 147/3 | Video | 08/02/2008 | [11min] | Cast | Presentation II |
| 147/5 | Video | 06/03/2009 | | | "Protégeme, instrúyeme" Final piece |