Entre les côtes de la baleine
(Lab Temporada Alta )
L'animal a l'esquena (Celrà)
From 14/10/2002 to 18/10/2002
Presentation :

On 19/10/2002 at 22:00
in Sant Domenech (Girona)
Alessandro Certini, Julyen Hamilton, Steve Noble, Steve Paxton, Pep Ramis, Andrés Corchero
( Núria Font, María Muñoz, Ramón Rey )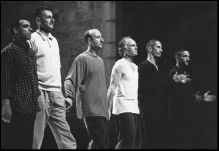 Creation laboratory where 7 international creators met to be able to explore and analyse the processes in relation to creating and thus add another experience to their own methodology, allowing influences from the others.


---
A performance by seven international artists where the individual work as well as the space of confluence and relationship among them can be watched.

"Entre les côtes de la baleine" is a dialogue proposal among the universes created by each of the participants of this laboratory organized by the Creation Centre L'animal a l'esquena. The artists have met in order to explore and analyze their respective creation processes so to add another experience to their own methodology by letting be influenced by the others.


---
| | | | | | |
| --- | --- | --- | --- | --- | --- |
| 19/18 | | 06/04/2002 | | Cat | Activity announcement |
| 19/1 | Video | 14/10/2002 | [21min] | | Laboratory I |
| 19/2 | Video | 15/10/2002 | [58min] | | Laboratory II |
| 19/3 | Video | 16/10/2002 | [38min] | | Laboratory III |
| 19/4 | Video | 16/10/2002 | [4min] | | Laboratory IV |
| 19/5 | Video | 17/10/2002 | [49min] | | Laboratory V |
| 19/6 | Video | 17/10/2002 | [26min] | | Laboratory VI |
| 19/7 | Video | 17/10/2002 | [45min] | | Laboratory VII |
| 19/8 | Video | 17/10/2002 | [27min] | | Laboratory VIII |
| 19/10 | Video | 17/10/2002 | [28min] | | Impro-Public presentation Fontana d'Or |
| 19/12 | Video | 18/10/2002 | [7min] | | Laboratory XI |
| 19/13 | | 18/10/2002 | [56min] | | Public presentation, Temporada Alta (fixed camera) |
| 19/14 | Video | 18/10/2002 | [1h] | | Public presentation, Temporada Alta (mobile camera) |
| 19/15 | Video | 18/10/2002 | [1h] | | Public presentation, Temporada Alta (mobile camera) |
| 19/16 | Video | 18/10/2002 | [1h] | | Rehearsal, Teatre Sant Domènec |
| 19/17 | Video | 18/10/2002 | [18min] | | Rehearsal II, Teatre Sant Domènec |
| 19/9 | Video | 18/10/2002 | [15min] | | Laboratory IX |
| 19/11 | Video | 18/10/2002 | [1h] | | Laboratory X |