Vinc assedegada de paisatge (Vengo sedienta de paisaje)
(Creation Residence )
L'animal a l'esquena (Celrà)
From 22/06/2009 to 28/06/2009
Presentation :

On 28/06/2009 at 19:00
in L'animal a l'esquena (Celrà)
La Perla x la Dansa
( Natàlia Espinet, Magdalena Garzón )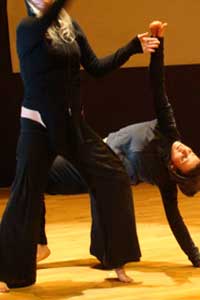 "Vinc assedegada de paisatge: cavity of dance, of voice, of memory, of taste from the friend that I've made of myself in contemplating and taking action. Assedegada is a creation of dance and word, that demonstrates how a collection of poems, moments, decisions, invitations to live can... with texts by Joan Vinyoli, Gabriel Ferrater, Sebastià Sansó and Natàlia Espinet". This work has been created with the collaboration of Celrà's town council. In this residence, the two makers will attempt to bring a long period of rehearsals and a work process that began in 2008 to formal completion.
---
| | | | | | |
| --- | --- | --- | --- | --- | --- |
| 192/3 | | 12/05/2009 | [4] | | Activity pictures |
| 192/1 | Video | 28/06/2009 | | Cat | Presentation |
| 192/2 | Video | 28/06/2009 | | Cat | Presentation + Talk |