(Creation Residence )
L'animal a l'esquena (Celrà)
From 27/07/2009 to 08/08/2009
Presentation :

On 08/08/2009 at 19:00
in L'animal a l'esquena (Celrà)
Jorge Jauregui
( Jorge Jauregui, Kaya Koodziejczyk )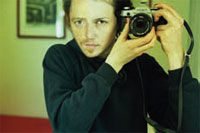 Estancias is the initiation of a very personal investigation in various non-urban contexts and areas that inadvertently immerse the creation of a defined piece. It seeks to give time and space to study and reflect for and on the body, the central axis of this residence. This process will be documented audio-visually for later analysis from another perspective.
---
| | | | | | |
| --- | --- | --- | --- | --- | --- |
| 197/1 | Video | 08/08/2009 | [15min] | | Video used on stage during the public presentation |
| 197/2 | Audio | 08/08/2009 | | | Phots, video and sounds recorded during residence at L'animal a l'esquena |
| 197/3 | Video | 08/08/2009 | | Eng | Public presentation |
| 197/4 | Video | 08/08/2009 | | Eng | Public Presentation + Talk |
| 197/5 | | 08/08/2009 | [5] | | Activity pictures |