(Creation Residence )
L'animal a l'esquena (Celrà)
From 28/09/2009 to 31/10/2009
Mal Pelo
( Pep Ramis, María Muñoz )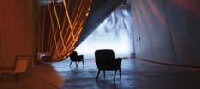 SWIMMING HORSES is the result of long, painstaking work around the themes that have inspired Mal Pelo's pieces in recent years. It provides an opportunity to review and share the company's imagination from fresh angles.

"We do not see the stage as a final destination, but as a place of transit, provoking other ways of looking, generating more material.
It is enough to look at what we have left behind when we come to open a show, all the remnants, ideas, drawings, images... the leftovers of work to which we are now giving a new form and structure.
The stage is a place in which to think, a few square metres where horses swim... and other things."María Muñoz – Pep Ramis.

SWIMMING HORSES is a project that includes a retrospective of the last six productions and the premiere of two new ones. In addition, an installation grew from the themes related to the last phase of collaboration with the writer John Berger, as well as the production of a CD music of Steve Noble and the publication of a new book.

---
| | | | | | |
| --- | --- | --- | --- | --- | --- |
| 202/3 | | 05/06/2009 | [5min] | | Video "Refugi" Santa Monica (Barcelona) |
| 202/4 | | 30/10/2009 | [6min] | | Video "Refugi" San Nicolau (Girona) |
| 202/1 | | 31/10/2009 | [10pag] | Cast | Dossier sobre el proyecto instalativo "Refugi" |
| 202/2 | | 31/10/2009 | [10pag] | Cat | Dossier sobre el proyecto instalativo "Refugi" |