(Residency by Associate Company )
L'animal a l'esquena (Celrà)
From 16/11/2015 to 30/11/2015
Presentation :

On 20/11/2015 at 21:00
in El Canal (Salt)
Mal Pelo
( María Muñoz, Pep Ramis )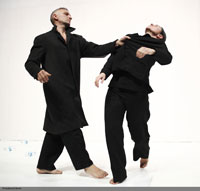 El quinto invierno (The Fifth Winter) is a limpid choreographic poem, at once tender and powerful, constructed around the words of the Italian writer and poet Erri de Luca. Sober impressionism, purity of movement, a waltz between seriousness and joy in this new piece performed at the Biennale de la Val de Marne, in Canada, in Perpignan, at the Festival Grec de Barcelona, the Festival Temporada Alto de Girona and the Théatre de la Ville in Paris. Mal Pelo offer us a poetic reflection on the passing of time and the limits of our own territory.
---
All the most characteristic elements of their work are here in this duet: their concept of the performace space, their descriptive power, their choreographic and voice work, their spatial treatment of sound and pared down lighting.


"...Tout concourt à forger une création lumineuse et très aboutie : La présence magnétique et la complicité des performeurs, la précision et la musicalité de leur gestuelle, sa propension à raconter des histoires, le jeu habile des lumières et la trame sonore galvanisante qui entremêle les chants en arabe de Sellami, les mélopées du chanteur de flamenco Niño de Elche, des battements de coeur, un morceau de pop, etc. Comme autant de langages qui témoignent de notre humanité partagée.... "
Nayla Naoufal. Le Devoir, Montreal, Canadá

NEXT PERFORMANCES

Friday 20/11
TEMPORADA ALTA INTERNATIONAL FESTIVAL, GIRONA

Tuesday 24/11 till Monday 30/11
THÉÂTRE DE LA VILLE LES ABBESSES, PARIS

Thursday 11/02/ 6 till Sunday 21/02/16
MERCAT DE LES FLORS, BARCELONA

Photography: Jordi Bover
---