(Lab )
L'animal a l'esquena (Celrà)
From 16/12/2015 to 19/12/2015
Presentation :

On 19/12/2015 at 19:00
in L'animal a l'esquena (Celrà)
Mal Pelo, Federica Porello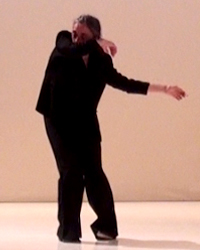 Bach is a piece based on a selection from J.S. Bach's Well Tempered Clavier that María Muñoz premiered in 2004 and has since performed over a hundred times all over the world.
In this special laboratory, María Muñoz works on passing on and reinterpreting this solo with the Italian performer and creator Federica Porello.

---
In Bach, the discourse is expressed only through the body and through the music of Bach. An approach to J.S. Bach's Well Tempered Clavier, in which the performer dances to preludes played live and to the memory of fugues danced in silence.

---