Ji Gou: Preludio y fuga en La Menor
(Creation Residence - Associate Project 2016 )
L'animal a l'esquena (Celrà)
From 21/03/2016 to 27/03/2016
Neus Villà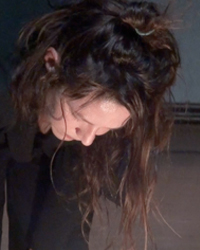 In 2016 Neus Villà would like to turn the research she carried out in 2015 under the provisional title of De acelgas y aceras (Of Plants and Pavements), into a performance piece, under the definitive title of Ji Gou: Preludio y fuga en La Menor/Ji Gou: Prelude and Fugue in La Minor.

For this research process she had the collaboration of Janet Novás, a Galician performer and creator based in Madrid, and later of Leo Castro, dancer and video artist. The project received a grant for research and creation from the Generalitat de Cataluña and support from L'animal a l'esquena as an associate project.
---
Ji Gou: Preludio y fuga en La Menor captures an ephemeral space created by presences in constant search of comfort. The desire to remain in the permanence of images. An abandoned space where the past and memory are continually bubbling up to snatch away the present and do battle amidst the presences, objects, immediacy and desperation.
---