Ji Gou: Preludio y fuga en La Menor
(Creation Residence - Associate Project 2016 )
L'animal a l'esquena (Celrà)
From 01/08/2016 to 14/08/2016
Neus Villà
( Neus Villà, Leo Castro )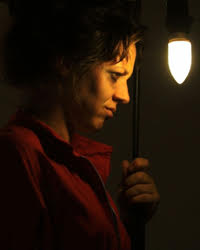 Ji Gou: Preludio y fuga en La Menor is a landscape and a presence.
A journey of transformation.
A fugue.
It is duality, two poles living together.
It is light, solitude and success.
It is abandonment and permanence.

Ji Gou is about will power, one's own gaze, identity and limits.

"You will never be first of all but neither will you be the last…Perhaps you will only enjoy the ecstasy of a moth in the moment before it burns in the flame."
Theory of Ambition, Hérault de Séchelles
---
Ji Gou: Preludio y fuga en La Menor was born out of a desire to work in an ephemeral, luminous space, physically, on the perserverance of the image, immediacy, the constant search for comfort and the idea that nothing ever stops.

In 2016 Neus Villà, accompanied by the dancer and video artist Leo Castro, wants to turn the creative process for De acelgas y aceras (Of Plants and Pavements) into a production to be seen under the definitive title of Ji Gou: Preludio y fuga en La Menor.

Thanks to the collaboration between IN SITU and L'animal a l'esquena, Neus Villà has been chosen to present a site-specific version of her piece, Ji Gou, Prelude and Fugue in La Minor, at the 5th Mostra IN SITU (December 2016). As a result of this network collaboration, Neus Villà  will also present the full stage version of the piece at the Sala Hiroshima.

Creation, direction and performance: Neus Villà/Assistant director: Leo Castro/Original music: Fanny Thollot/Wardrobe: Carme PuigdeValliPlantéS

Thanks to: Pep Ramis, María Muñoz, Eduard Teixidor, August Viladomat, Núria Font, Janet Novás.

This project is supported by L'animal a l'esquena as an associate project, by the Ayuntamiento de Celrà and the Generalitat de Catalunya.
---