El espacio del cuerpo y el cuerpo en el espacio
(Conference )
La Fontana d'Or (Girona)
On 08/11/2003
Presentation :

On 08/11/2003 at 12:00
in La Fontana d'Or (Girona)
Àngels Margarit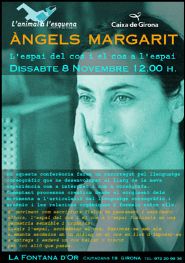 Conference conducted by Àngels Margarit, in which the dancer journeyed through the choreographic language that she has been developing during her experience as a performer and as a choreographer. She talked about the working processes from the moment where movements come out to the articulation of the choreographic and scenic language and the organic and formal relationships among them.
---
The movement as physical writing of thought and feeling, the space of the body and the body in the space fusing together in a sensitive and organic geometry.

To read the space, to accident the body by fusing with the scenic elements in a dialogue where the body, instead of imposing itself, is given and becomes a danced or lived body by what happens to it.
---
| | | | | | |
| --- | --- | --- | --- | --- | --- |
| 42/4 | | 08/11/2003 | | Eng | Activity Announcement |
| 42/1 | Video | 08/11/2003 | [1h02min] | Cat | Conversation I |
| 42/2 | Video | 08/11/2003 | [20min] | | Conversation II |
| 42/3 | | 08/11/2003 | | | Conversation I |