(Creation Residence )
L'animal a l'esquena (Celrà)
From 22/05/2017 to 24/05/2017
Mariantònia Oliver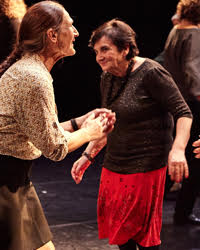 The project Las Muchísimas began in January 2017 with the aim of continuing and expanding on the performance project Las Muchas. This brought together six women of between 70 and 80 on stage, after an intensive workshop with the Mallorcan choreographer Mariantònia Oliver.
Thanks to the support of the Teatro Principal de Mallorca, Las Muchísimas now hopes to gather 15 women on stage in early 2018, made up of five groups from five different cities who have already experienced Las Muchas.
Five workshops/laboratories will be arranged in 2017, in each of the cities taking part in the project.
We want to work with the local theatre in each city, to support and present the project. The local coordinator of each group is a choreographer who has worked with Mariantònia Oliver. He or she will provide continuity in the work with the women selected (Las Muchísmas) and a link with the central nucleus of the project, the Mariantònia Oliver Company on the island of Mallorca.
---
"Las Muchas was a long project about the memory of women now over 65. A collective memory holding much grief over repression and lack of liberty. Even so, we found a brave, beautiful body, a presence with a lot to say and the desire to express it. Women's freedom is very recent and the changes over recent generations have been enormous.
This brings us to Las Muchísimas, a meeting place for all the women we had already met, with their experience of a creative project and of sharing their experiences, revealing their scars and their joys. We are counting on that energy of commitment, that desire for self-expression, to be seen and above all to communicate to us, with beauty and humility, their account of every day life and of history.
And we move, and we dance, revealing our experiences through our present bodies, with all their signs of life lived, of worn shoes.
We want to focus on HAPPINESS, that feeling rooted in the joy of being who you are, the satisfaction of being able to look yourself in the mirror and recognise the whole path you have travelled with your own identity. The joy of basing yourself on your own reference points.
We'll talk about the things we have built, giving them shape. About what we have dared to do, going beyond the expectations of our culture, avoiding comfortable dependence.
We'll talk about the body, its habits, vices, caresses, love and scars.."
Mariantònia Oliver
---