(Creation Residence - Associate Project 2017-2018 )
L'animal a l'esquena (Celrà)
From 03/07/2017 to 14/07/2017
Presentation :

On 14/07/2017 at 19:00
in L'animal a l'esquena (Celrà)
Baró d'Evel
( Baró d'Evel, Camille Decourtye, Blaï Mateu Trias )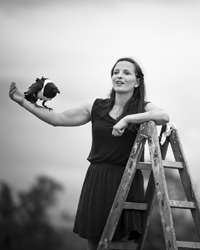 LÀ
Piece for two humans, a crow, four mikes and two colours.

LÀ as a question mark over the present.
LÀ as HERE.
LÀ as now, as a test.
LÀ as a note.
LÀ as a fall.
LÀ as a plot.
LÀ as a prologue to The Cliff.
LÀ as a plain, a dead point, a suspense.
LÀ as a moment of naked brutality.
LÀ as a continuation of what went before.
LÀ as a beginning of what is to come.

Creating LÀ means giving time and space to the duo Camille Decourtye and Blaï Mateu Trias to carry on:
- exploring the limitless world of the voice, portés and desequilibrium.
- deepening their investigation into matter, light and rhythm.
- playing with the juxtaposition of the improbable, the abstract, the absurd and the instinctive.

---
In LÀ there will be a black and white bird, the master of ceremonies, the conductor of the orchestra of the here and now.
The crow will act as boatman between two parallel worlds, that of fears and beliefs and that of reality, full of sensations, bonds with others, malice.
The bird will be free on stage, an actor, manipulator of objects, singer. It will provide the starting point for a search in which improvisation will be required to build its universe: its movements, temperament and language:
Can people speak to Gus? Does Gus talk to humans? Should we give him subtitles?
The pair have worked intensely on giving sound to certain instants, using sound to get close to certain sensations. With Gus they will try to capture the sound of his footsteps, the pecking of his beak, his flight…
---