The Mountain, the Truth and the Paradise
(Residency by Associate Company )
L'animal a l'esquena (Celrà)
From 13/11/2017 to 23/11/2017
Presentation :

On 23/11/2017 at 20:30
in Teatre de Salt (Salt)
Mal Pelo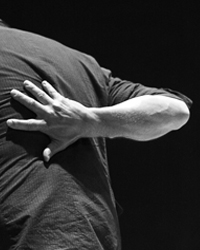 Premiere of the performance in Archipel Theatre of Perpignan, France, the 24th and 25th October: http://www.theatredelarchipel.org/fr-show-850.html

A solo piece usually grows from a specific need to construct a very personal fiction, to bring the experience of recent work up to date and explore the artistic interests involved. Working solo at the age of fifty also means looking again at the tools of the trade of performance artist that have been amassed so far. Dancer, actor and stage director, in The Mountain, the Truth and Paradise Pep Ramis seeks a new turning point.
Spirituality, the tragedy of the human condition – always between the gods and the mud – the capacity to carry on imagining possible worlds… A very particular, humorous view of the human species and their failings.
---
Sound and pared down movement are the main emphasis of the piece, with special attention paid to precise gestures. With the collaboration of Jordi Casanovas and María Muñoz as directors, August Viladomat in lighting design and Fanny Thollot on the sound track and the location of sound sources in the space. He will also have artistic support from Leo Castro, Blai Mateu and Camille Decourty, directors of Baró d'Evel, with whom Mal Pelo have worked on their latest creations.
---