COS-A- COS-O (CUERP(O)-A-CUERP-O)/ HAND TO HAND
(Creation Residence )
L'animal a l'esquena (Celrà)
From 24/06/2019 to 29/06/2019
Presentation :

On 29/06/2019 at 19:00
in L'animal a l'esquena (Celrà)
Fil d'Arena Teatro-danza
( Irene Ballester, Isabel Abril, Roseta Plasencia, Jose Dopateo Diaz, Hèctor Rodríguez Pérez, Ayoub Rouifi )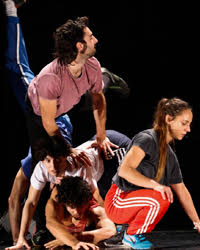 The ancestral nature of the human nomad, the sense of a community that moves from one place to another and never settles permanently anywhere.
Exploring the value of the individual in a collective. Looking into personal movement and what brings us together as a group.
A collective body that needs other bodies. Bodies without gender roles.
What happens when different bodies meet as part of the same expressive migration process? What kinds of relationships are formed?
Migration as both exterior and interior movement, that breaks through frontiers and boundaries, allowing for shifts and learning in bodies, disciplines, languages, bodies.
Migration as evolution.
---
Creation and performance: Isabel Abril, Irene Ballester, Jose Dopateo, Roseta Plasencia, Hector Rodríguez, Ayoub Rouifi.
Directed by: Fil d'Arena Danza-Teatro
---