La melancolia del turista
(Creation Residence )
L'animal a l'esquena (Celrà)
From 11/11/2019 to 16/11/2019
Presentation :

On 19/11/2019 at 20:00
in Centre Cultural La Mercé (Girona)
On 24/11/2019 at 20:00
in Centre Cultural La Mercé (Girona)
Oligor y Microscopía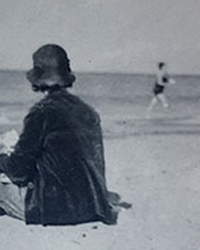 La melancolía del turista/The Melancholy of the Tourist is a hall of mirrors held up by what remains of a sublimated landscape, that no longer exists or never did: a state where things dissolve in time, sometimes reviving through traces of memory and certain pockets of resistance. It comes from a search through various tourist spots, from which we have recovered instants and objects that speak of the rise and fall of this fantasy. But melancholy is also a mood of suspense that goes along with the exception, an active force driving us towards the desire to reinvent and reinvent ourselves in these lapses where inertia is shattered.
---
https://temporada-alta.com/event/la-melancolia-del-turista/



Artistic Credits

Creation, production and performance: Shaday Larios and Jomi Oligor
Poetry: Ángel Hernández
Invention: Ivan Puig
Music and sound: Suetszu & Jayrope
Warmest thanks to:
Guillermina Delis Barrientos, Juan Obregón "El peque", L'animal a l'esquena, Taller 30_SMA, Jordi Fondevila, Yanisbel Martínez, Claudio y Charo, David Continente, Gilberto Esparza, Cabo San Roque, Violeta Gil, La uÑa RoTa and all the people, landscapes and beings that live on in the instants of melancholy.
A coproduction by: Oligor y Microscopia, Iberescena, Patronato Municipal de las Artes Escénicas del Ayuntamiento de Zaragoza, Pyrenart, La Parvis – Scène Nationale de Tarbes Pyrénées, Festival Temporada Alta, Interreg Poctefa and Grec Festival de Barcelona.
---