(NOTICE )
L'animal a l'esquena (Celrà)
From 01/04/2020 to 31/05/2020
l'animal a l'esquena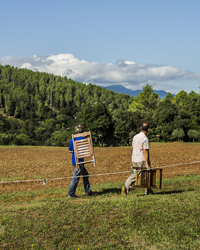 Dear friends,


Given the current situation, we are following the measures for the prevention and containment of COVID-19. L'animal a l'esquena has cancelled all planned activities until further notice. Our buildings will remain closed, as will our administrative office.

The programme of creation residencies has been suspended for the time being and will be resumed as soon as circumstances allow.

We shall reply to requests as quickly as possible. L'animal will give priority to finding alternative dates for residencies that have already been booked and have to be cancelled and, according to what dates may then be available, will allocate these to new residencies that are now pending confirmation.

We are working online to attend to any enquiries. You can contact us at info@lanimal.org
Thank you for your understanding. In the hope that together we can overcome this crisis, we look forward to being able to open the doors of L'animal again soon.

Stay well, keep safe and be creative in your daily lives.

Until soon! Bye for now.
---