The Mountain, the Truth and the Paradise
(Creation Residence )
L'animal a l'esquena (Celrà)
From 01/09/2020 to 05/09/2020
Presentation :

On 01/10/2020 at 20:00
in (Per Confirmar) ((Per Confirmar))
Mal Pelo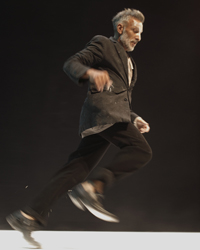 Mal Pelo resumes the tour of Pep Ramis' solo The Mountain, the Truth and Paradise for the 2020-2021 season. Company rehearsals for the performance at the FAM Festival, Tenerife, Italy.

This solo piece grew out of the need to construct a personal fiction, to bring the experience of recent work up to date and look into current artistic interests. Working
as a solo artist also involves reviewing the tools of the trade gathered over a
long career as a performance creator.
The Mountain, the Truth & the Paradise is a poetic world questioning the
meaning of divinity and vulgarity, spirituality and ignorance, beauty and banality.
---
The performer's ability to transform himself into a bare, blank space, and precision
of movement and voice are the main aims of the score of this piece, which offers
a journey full of variety, feeling and stimulation.

Throughout the creative process, Pep has had the support of Jordi Casanovas and
María Muñoz as directors, August Viladomat as lighting designer and Fanny Thollot
as designer of the sound track.

There is an attraction opposite to that of the earth.
A force that shoots the fruit up above the tree,
raises mountains,
whips up the tides and fire.
It is the force that is there in prayers and serenades,
in the moribund, in rising bread,
in the throat of the wolf,
the toss of a hat
or a cry of pain
Erri de Luca

Artistic credits
Directors and space design, Pep Ramis, María Muñoz
Performer, Pep Ramis
Assistant to direction, Jordi Casanovas
Artistic collaborations, Leo Castro, Blaï Mateu y Camille Decourtye (Baró d'Evel Cirk Cie), Piero Steiner
Texts, Erri de Luca, Mal Pelo
Composition and sound design, Fanny Thollot
Additional music, P?teris Vasks, Canto de la Sybilla
Lighting design, August Viladomat – Punt de Fuga
Lighting technician and technical coordinator, Irene Ferrer
Sound technician, Andreu Bramon
Video production, Xavier Pérez
Wardrobe design and production, CarmepuigdevalliplantéS
Set construction and consultation, Adrià Miserachs, Pep Aymerich
Production, Mamen Juan-Torres, Eduard Teixidor
Promotion and distribution, Eduard Teixidor

A co-production by Mal Pelo, Théâtre de la Ville de Paris, Festival de Tardor de Catalunya Temporada Alta 2017, Agora de la Danse de Montreal.
In collaboration with Théâtre de l'Archipel Perpignan, Mercat de les Flors de Barcelona and L'animal a l'esquena – Creation center.

Duration 60 minutes.

Premiere 24 and 25 October 2017 at Théâtre l'Archipel – Scène Nationale de Perpiñán.
---