anya: The House of Free Women
Creation Residence
Marta Vergonyós, Beatriz Santiago
( Marta Vergonyós, Beatriz Santiago, Denys Blacker, Marinah (Ojos de Brujo) )
L'animal a l'esquena (Celrà)
From 14/03/2016 to 20/03/2016
Presentation :

On 19/03/2016 at 18:00
in L'animal a l'esquena (Celrà)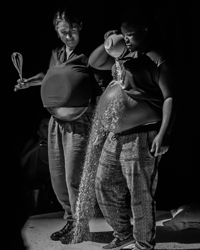 Madremanya is a symbolic house. All we know about it for the moment is that it has a large, oval central table to which are invited artists, domestic workers, dancers, actresses, sex workers, performers, singers, set designers, magicians, academics, writers, mothers, grandmothers and all the caring women who feel the call to build a house of free women. If we cannot dismantle the master's house using his tools (Audrey Lourde), maybe with those of its housewives we can.
---
Madremanya is a collaborative research and creation project about housework, its practice and symbolism, with the aim of transferring its context to a multimedia, performance representation. We want to generate and put into play a new set of symbols around housework, through a cross-disciplinary creative project. In our context, the home is the space for "being with", a space that has to do with relationships. It is a subjective space, though never separated from the physical. Marguerite Duras perfectly describes this duality of the home when she writes of "The interior home, the material home". "The material home" is the one that contains objects and rooms. "The interior home" is not only its physical interior, but also has a psychic and bodily dimension and so a relational one.

The idea is to share this residency so as to continue creating and nurturing Madremanya as an enjoyable collective experience in which development and relationships are in themselves creative. We shall be accompanied by Denys Blacker and Marinah (Ojos de Brujo).